RHEINZINK MULTI-FORM
The reliable roof system with small-format tiles
Benefits of MULTI-FORM tiles made from RHEINZINK titanium zinc
Three modern forms – individual, property-specific sizes Rapid 1-man installation Roof systems and matching roof drainage products from a single source
MULTI-FORM by RHEINZINK: 1001 options for planners, architects and professional specialists
The degree of importance assigned to the design of roof coverings for new buildings or existing buildings depends on the type of building and also on the budget available for the roofing. Many builders have a clear idea of the price range, but custom requests are only rarely set aside. Planners, architects or professional specialists then need a delicate touch. After all, you will not impress customers by disappointing them but by providing professional results and fulfilling their wishes.
MULTI-FORM by RHEINZINK is a system solution that impresses in every way. The components employed promise durability, reliability and enable the roof to be implemented economically. At the same time, MULTI-FORM consists of only three basic forms that can be easily combined with one another.
RHEINZINK MULTI-FORM programme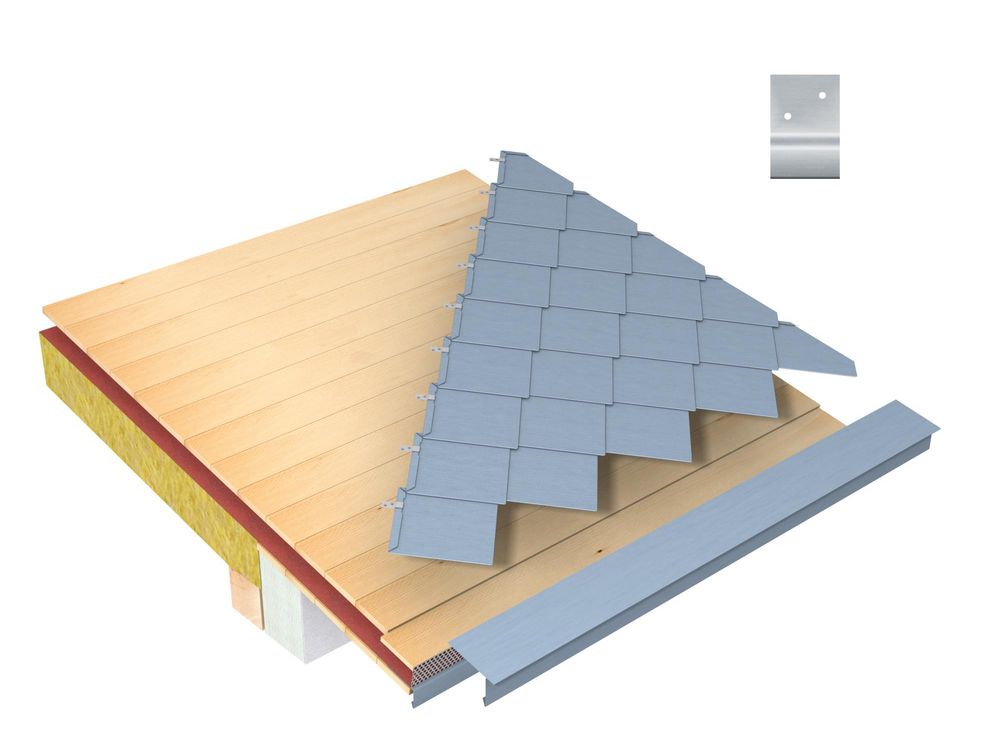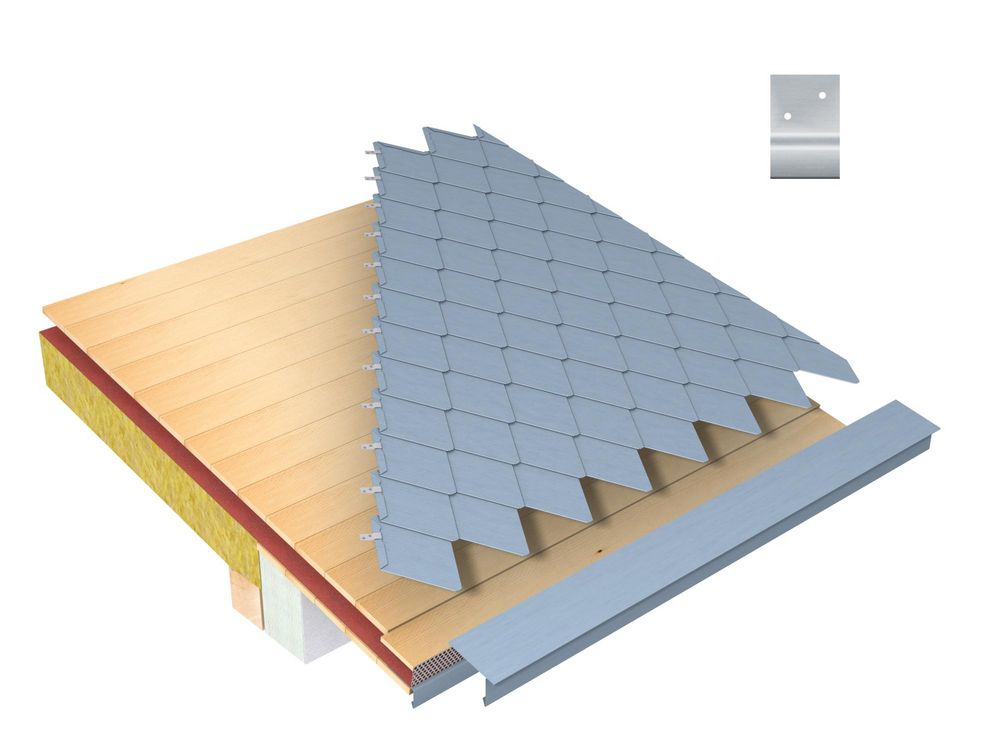 Features of RHEINZINK MULTI-FORM
When creating roof coverings, special focus is placed on their functionality. They must offer protection, divert rainwater and be as long-lasting as possible. MULTI-FORM by RHEINZINK achieves all this at all times. Furthermore, MULTI-FORM offers the following further product features:
As an interpretation of the classic tile, MULTIFORM also offers product-specific quality features
The separate elements are available in individual and property-specific versions and therefore can be correspondingly adapted to particular elements
The system is attached using well-engineered system technology so that it can be completed rapidly and economically
Seamed corners ensure additional protection against water and moisture
It can be used on roof surfaces starting from a gradient of 10°
When planning and designing roof surfaces, you can use customary patterns or strike out in new directions. You can always rely on our flexibly adaptable products. They enable you to respond particularly flexibly to modification requests from your clients, saving both your time and your nerves.
Surface variants for RHEINZINK MULTI-FORM
MULTI-FORM planning and application
System description
From 10° roof inclination: ventilated roof structure with rainproof underlay (welded or bonded joints), underlay made from bitumen membrane with fibreglass or glass fabric insert lining in line with DIN 52143, DIN 52130 or DIN 52131 combined with a suitable structured underlay (e.g. V13 + AIR-Z) over solid wood boarding
From 25° roof inclination: ventilated roof structure with rainproof underlay (welded or bonded joints) installed directly on solid wood boarding
Diamond, square and rectangular tiles from the new RHEINZINK MULTI-FORM tile group are impressive in every respect. Their design is characterised by two fold-forwards on the top edge and two fold-backs in the form of single seams on the bottom edge. The seamed corner formation on the top of the tile provides additional protection against water ingress.
Dimensions and metal thickness
Minimum visible face 302 x 210 mm, 26.74 tiles/m²
Maximum visible face 685 x 428 mm, 6.26 tiles/m²
Width and height of face (min/max): 200/530 mm
Minimum visible face 200 x 200 mm, 25 tiles/m²
Maximum visible face 530 x 530 mm, 3.56 tiles/m²
The metal thickness is 0.7 mm for RHEINZINK CLASSIC, RHEINZINK prePATINA and RHEINZINK artCOLOR surface finishes. MULTI-FORM tiles can also be supplied in 0.8 mm metal thickness on request.
Attachment
Each of the three tile geometries are attached using one or a maximum of two clips. The clip can be locked into the fold-back, thus attaching it quickly and easily to the substructure. We recommend using 4 x 25 mm Torx-drive screws made from galvanised steel or stainless steel as fasteners. This is based on the Guidelines for tinsmith work on roofs and facades (tinsmith regulations) published by the ZVSHK (German central association for plumbing, heating and air conditioning).
Diamond tiles are generally attached with one clip
Square tiles are attached diagonally using one clip, or two clips for construction widths > 400 mm
Horizontal attachment of square tiles and attachment of rectangular tiles require two clips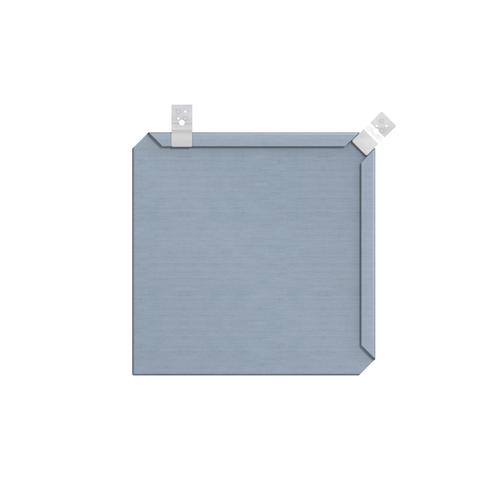 At RHEINZINK, quality does not only mean product quality
For us, excellent product quality goes without saying. Otherwise, we would not be able to compete as a producer. To us, quality also means providing our customers with added value related to our products. For instance, all important information, technical details, samples or design examples can be easily found on our web page at any time along with downloadable brochures. We put great emphasis on a clearly defined programme to simplify your daily work and ensure that you always know which elements are the best to use in any situation. This eliminates lengthy coordination processes and saves valuable time. If our extensive standard programme does not include a suitable solution, the RHEINZINK team is always on hand to help you find alternative solutions. Together, we can find the possibilities and alternatives available to you.
In addition to our MULTI-FORM roofing system, RHEINZINK also supplies a selection of further roofing system solutions. Our roof programme is supplemented by facade systems. If necessary, roofs and facades can be planned and designed at the same time. Our team can be contacted by telephone or via email at any time during our business hours. If you would prefer to first familiarise yourself with MULTI-FORM or our other system solutions, you can easily find a specialist dealer or professional specialist near you using our online dealer or specialist locator. Please contact us without obligation and free of charge! We would be glad to hear from you even if you have no specific, current plans.
Once you get to know our well-thought-out system solutions, you will have gained useful suggestions and a source of solutions to keep in mind for future projects.