Our new series entitled 'From Zinc to RHEINZINK' begins with a small introduction to the all-rounder, zinc, as this trace element is not just good for our health. Zinc surrounds us everywhere in everyday life, and has been used as a building material for more than two centuries. Here, you can find out which processing options are available, how energy-efficient and sustainable the material is, and so much more.
As a trace element, zinc is essential for human health; growth and wound-healing are positively influenced, too. Above, all, zinc is well-known for its role in our immune system, and the corresponding preparations are very popular, especially during the cold season. Moreover, zinc surrounds us everywhere in everyday life; from pressure-casting in fittings, and components in automobile construction, to hot-dip galvanised railings, to guttering, façade cladding or roofing, such as is manufactured at RHEINZINK.
Part 1: The material
Zinc has been used in construction for more than 200 years – titanium zinc is the modern version of this naturally-occurring metal. RHEINZINK is an alloy which consists of fine zinc and minimal quantities of titanium and copper. The fine zinc and titanium are sourced from a variety of countries of origin, such as Scandinavia, Spain, Belgium and Germany – rarely though from Mexico or Peru. Copper, as a recycling material, comes in the form of broken scrap for processing. The alloy additives are important for the patina colour and the special material-technological properties.
The alloy composition gives the materials not just the necessary strength, but the products can easily be shaped, too. These processing possibilities allow complicated details to be mastered and the realisation of any roof shapes. RHEINZINK titanium zinc, whether as cladding for a dormer, gable, balcony or chimney, represents an upgrade for the entire building due to its appealing and sophisticated appearance. Roof edges, porches and wall coverings shine in new splendour thanks to this noble material.
Nearly 100% of the titanium zinc used can be recycled with very little energy use and without any environmentally-harmful residues. The protective patina, which forms on the zinc surface over time, ensures a tremendously long life expectancy. Numerous historical buildings show that zinc roofs are completely intact, even after 200 years, and this without any notable maintenance effort. Furthermore, every RHEINZINK product already consists of 30% secondary material.
Part 2: Pre-alloying
The manufacturing process of RHEINZINK titanium zinc consists of several steps, which are carried out in the production at the Datteln plant. We take a look at the pre-alloying areas, the melting-casting-rolling line, the pre-weathering plant and then end with further processing. The first step is the pre-alloying.
The pre-alloying product area may only be accessed by skilled workers with precise instructions and special protective equipment as, in the truest sense of the word, it gets hot here! At a temperature of nearly 800°C, so-called pre-alloy ingots are produced from fine zinc, titanium and copper in a crucible induction furnace (capacity 2t). These ingots contain many times the titanium and copper content of the later rolled alloy.
What exactly is pre-alloying? This refers to alloys which are not used to manufacture end products, but are added to molten metal. The pre-alloy supports the process of metal bonding. For example, the variety of melting points make it very difficult to join various metals into a final rolled alloy. Thus, all three components of the alloy, as required by RHEINZINK, have different melting points: zinc 418°C; copper 1,083°C; titanium: 1,670°C.
The pre-alloy ingots are later added, in a certain ratio with fine zinc, to the large melting furnace, where a temperature of 'only' approx. 550°C is then required for melting.
Part 3: Melting-Casting-Rolling
The melting-casting-rolling line
In this chapter of our series entitled 'From Zinc to RHEINZINK', we present a really special feature. The RHEINZINK plant in Datteln is home to the only continuous melting-casting-rolling line worldwide!
In the 1960s, the RHEINZINK engineers played a vital role in the development of this patented melting-casting-rolling line, thus replacing the traditional packet rolling process. The difference to other manufacturers is that the special RHEINZINK alloy is processed in a continuous production process, from melting, to rolling, to coils of different metal thicknesses.
The first step is the melting. The ovens reach a temperature of 550°C and melt the pre-alloy together with the fine zinc ingots and/or return scrap into the final RHEINZINK alloy. The liquid alloy obtained is now introduced into the casting machine, one of the centrepieces of the RHEINZINK process. The technology upon which this is based creates the conditions for a uniform and, above, all, failure-free material quality. The circulating cooling water ensures that the RHEINZINK alloy is cooled so far below the melting point that a solid cast strand is produced.
Thereafter, five roll stands arranged in a row wait for the cast strand. In each roll stand, the thickness of the 15 mm thick strand is reduced by 35 to 50 percent. The final material thickness is between 0.5 - 2 mm. After the last roll stand, the now finished RHEINZINK coils are rolled up to become 20-tonne so-called large coils. The change takes place 'on the fly', as the continuous production process does not allow for any stoppages. This method is also a RHEINZINK development and unique worldwide. The still hot large coils (approx. 140°C) are then temporarily stored for at least two days to cool down to room temperature.
Part 4: The pre-weathering system
RHEINZINK coil is manufactured in a continuous process and, at the end, giant coils are created which gleam slightly and have a silvery appearance. We are referring to the bright rolled RHEINZINK material, as well as to our RHEINZINK CLASSIC product range. Over time, this surface forms a matt grey protective layer, the so-called patina. As the process of patina forming is more irregular, it sometimes has an uneven appearance, i.e. external factors, such as rain, influence the speed of the patina formation. Thus, bright rolled RHEINZINK, which is installed in a corner of a building protected against the rain, will naturally develop its patina layer slower than a roof-surface on the same building. It is somewhat comparable with wood. The table-top of a garden table usually weathers faster than the table-legs – especially the sides which slope inwards. The delayed patina formation is not a disadvantage, it is a natural process, but many architects, builders and developers prefer a uniform appearance right from the start. This is where our pre-weathering comes into play.
Since the 1980s, we have been offering pre-weathered surfaces. What we are speaking of here is our current prePATINA product range in the versions, blue-grey and graphite-grey. With these variants, the colour tone of the protective layer, i.e. the patina, is anticipated in our pre-weathering system. The natural surface characteristic of forming the life-long protective patina under environmental conditions is thereby retained. This process is also unique worldwide. The 'pre-weathered' products of our market competitors are either coated or painted/varnished and therefore no longer natural. The positive effect of the patina formation is therefore no longer present.
In our pre-weathering system, the bright rolled coils are subjected to pickling/staining and rinsed after a cleaning process. The whole procedure takes place in a closed, continuously-operating pickling/staining system, which meets the highest environmental requirements. Many measures are also taken that are far stricter than the current official environmental protection regulations: these include a dialysis system which converts the residual pickle/staining material into a reusable acid, thus drastically limiting the total acid requirement. In addition, a state-of-the-art catalyst system is used to clean the exhaust air, and the zinc sludge produced is recycled, too.
Whether the material becomes blue-grey or graphite-grey depends on the original alloy. For the graphite-grey material, the copper content is higher, for example. Incidentally, both bright rolled and pre-weathered materials have been fitted on our plant premises. Clearly, the Libeskind Villa was clad with prePATINA blue-grey. The façade elements at the zinc port have also been clad with blue-grey or granite-grey elements. In contrast, the zinc surfaces at the main entrance of the administration building were clad with bright rolled RHEINZINK in the 1960s. In the next part, we will take a closer look at the further processing department.
Part 5: Production // Further processing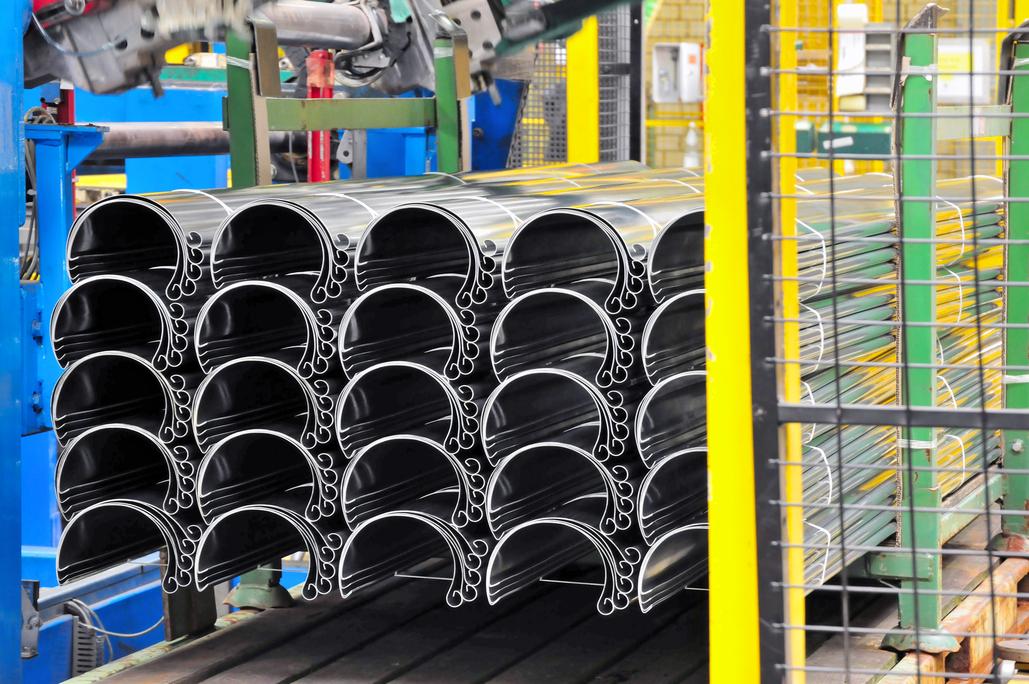 Large coils have an impressive weight of about 20 tonnes and they are therefore naturally not viable for further processing. In the slitting/cut-to-length line, the coils are not only divided into smaller coils and sheets, but also subjected to the strength-bend-straightening process. This process pulls stresses out from the material which are created by the rolling process. The result is a wave-reduced material with straighter edges.
Up to this production step, the RHEINZINK semi-finished products are manufactured at the Datteln plant, i.e. coils and sheets, which can be further processed into finished products by the customers themselves. Naturally, RHEINZINK also has a wide product range, for example, it includes everything to do with roof drainage, or panels, and panels for roof and façade cladding.
This is why a large proportion of the clean-cut coils and sheets go on to further processing. There, automated processes meet manual work steps. Gutters, for example, are formed fully automatically, bundled and then packed onto pallets. The pipe-bending machine impressively bends a long straight pipe into a snake. After cutting, this bending creates individual pipe bends, but there are also areas where the employees reach for the soldering iron and connect components for roof drainage. The further processing department manufactures a total of more than 500 products in a wide variety of thicknesses and surface combinations. Some products are manufactured from our materials off-site by external, specialised suppliers, for example, RHEINZINK water-catch boxes are produced in southern Germany.
Small coils are also produced in the further processing department and prepared for transportation. Small coils weigh approx. 500 kg and are thus just 2.5 percent of the weight of the original large coil. After completion and packaging, all the products – whether gutters, pipes, panels, pipe clamps or small coils – are transferred to the logistics warehouse from where they are delivered to the customers.
Our little 'tour of the plant' ends with a visit to the further processing department. In the next part of our series, we will show you how our location in Datteln has developed since 1967.
Part 6: RHEINZINK history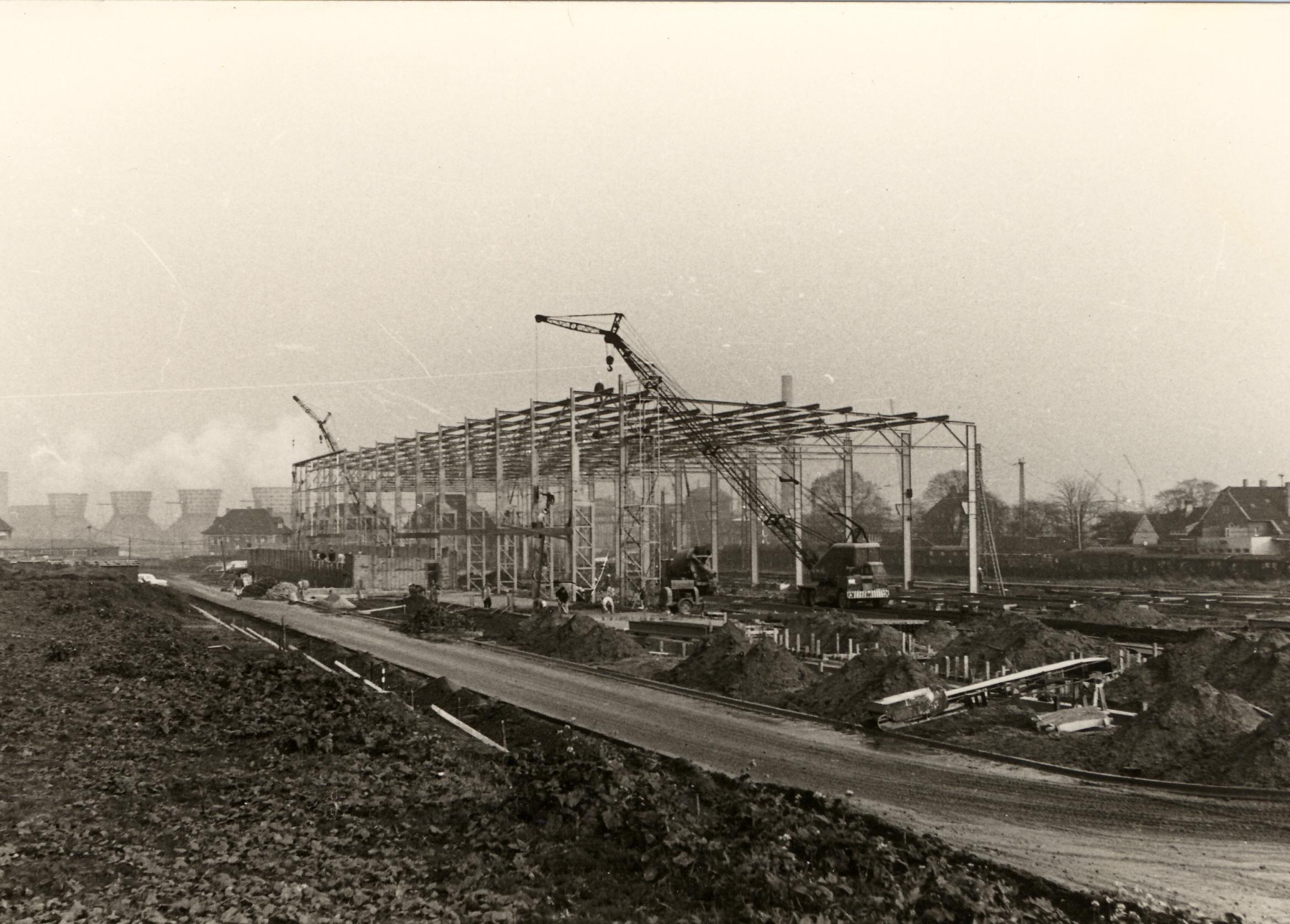 Founded in 1967, the Datteln RHEINZINK-plant has evolved enormously in all areas over the decades.
Some of the milestones, apart from the construction of the rolling mill, are certainly the first steps in further processing in the early 1970s, the commissioning of the first pre-weathering plant at the end of the 1980s, and the successive further development of the office space, warehouse and production halls at the end of the 1990s and in the 2000s.
In 2006, the pre-weathering hall was opened in its current form. In 2009, the Libeskind Villa was built. Currently, a new large coil warehouse rounds off our factory premises in Datteln.
Have a look at our photos to get an idea of more than five decades of RHEINZINK history.
Part 7: The importance of roof drainage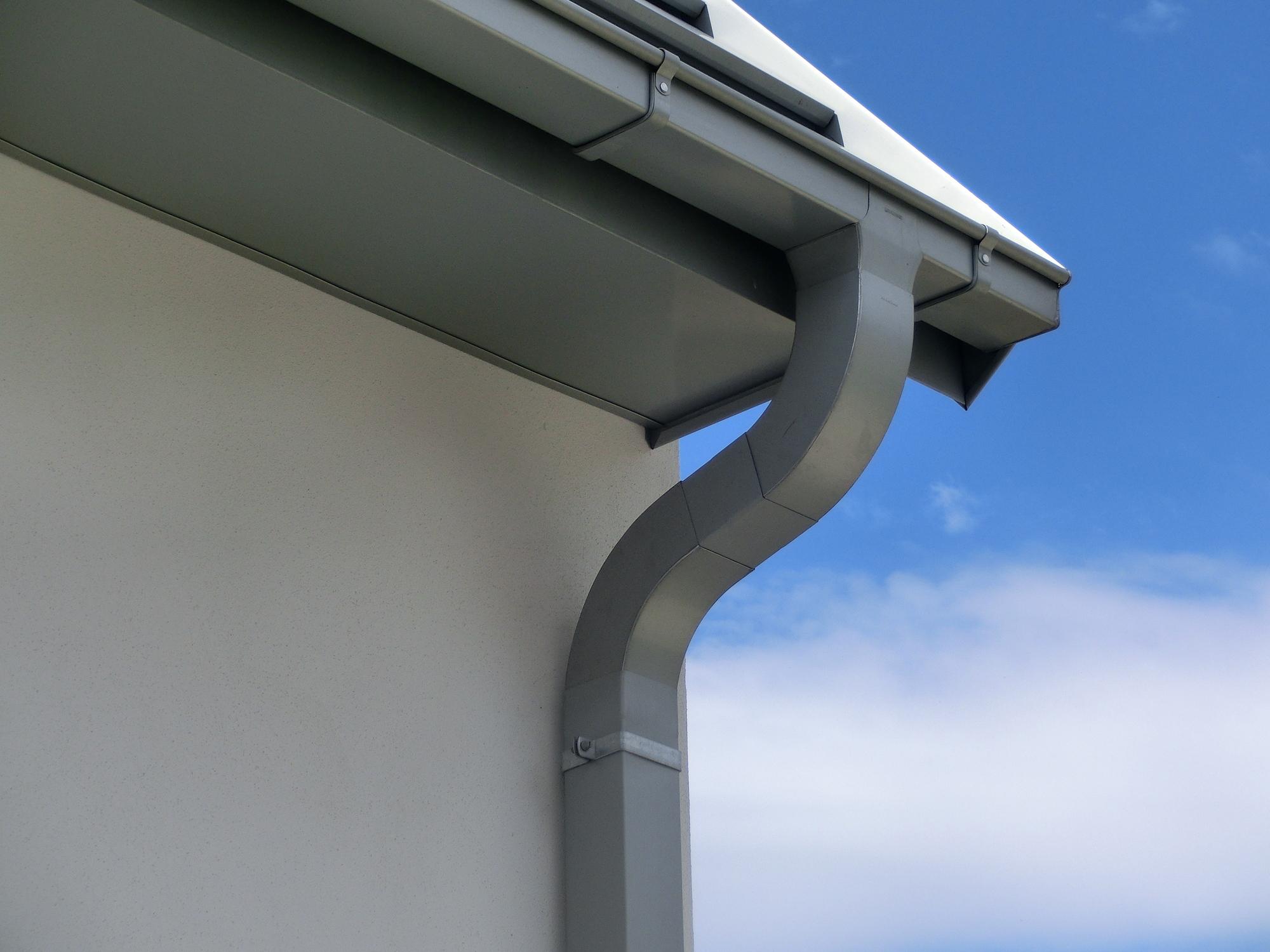 There are numerous different requirements for both new buildings and renovations. Such requirements include the installation of a roof drainage system to safely drain rainwater and protect the building.
A roof drainage system is also indispensable for buildings as it protects the building's substance. RHEINZINK is a specialist for gutters, downpipes and a variety of accessories made of titanium zinc. The products are available in various finishes as well as in semi-circular or box-shaped designs. They therefore offer both a functional as well as a visually appealing solution to many different building styles.
When you take a closer look at the gutters of houses, the embossing reveals their origin. Gutters, downpipes or even end bases are embossed with a small RHEINZINK logo. But there are also roof drainage products from RHEINZINK without the tell-tale embossing. For example, reworkers use RHEINZINK coil material to manufacture their own gutters and pipes.
A quick overview of the advantages of a RHEINZINK-roof drainage system: precisely fitting system solutions for safe roof drainage, simple and cost-efficient installation, RHEINZINK - QUALITY ZINC, low-to-no-maintenance.
Part 8: The architectural details
Architectural details are elements that enrich the architectural impression of a building. A consistent overall appearance can ultimately only be achieved if these harmonize with façades or roof elements.
As an ideal complement, the RHEINZINK product range therefore includes a variety of façade details and architectural elements, which planners or architects can use to stylishly incorporate certain parts of a building into an overall concept, such as dormer and gable cladding, copings, roof edges or chimney head cladding.

There is a product for every architectural challenge in the RHIENZINK range. RHEINZINK flashings and claddings offer reliable protection from the elements on critical building parts, while at the same time impressing with their durability and giving the building that special something extra. What's more, they can also be customized to meet individual requirements.
Part 9: Façade claddings
A façade is an architectural design element; it defines the appearance of a building. However, it not only creates a representative appearance, but also has other important functions. For example, it protects the building from the weather, environmental influences and noise. RHEINZINK can also be used to masterfully set the scene for entire façades or partial surfaces.
Different installation systems
There are different installation systems, providing a very unique look for the building envelope. If you prefer a classic, handcrafted look, the angled standing seam with the typical optical interlocking joint or tiles in large or small formats are the perfect choice. If you prefer a more clean and straightforward look, you will certainly like the panel systems better. They can also be installed to resemble wood panels.
Products are available in the various finishes depending on the respective system. Façade claddings made of RHEINZINK can be found on administrative buildings, public facilities, as well as private homes. The advantages: low-maintenance, easy to care for, long-lasting and simply a visual highlight.

Part 10: Roof coverings
It doesn't always have to be the classic roof tile; metal roofing is an attractive alternative, as it is lightweight, leak-proof and non-combustible. RHEINZINK has solutions for roofs that are weather-resistant, sustainable, long-lasting and have a highly appealing look. To achieve this, various installation techniques have been developed, which can be realized with RHEINZINK: the sheet and coil material is manufactured in further processing steps into either long panels or tiles in small or large formats.
Advantage of titanium zinc
The advantage of titanium zinc: Thanks to the handcrafted processing of the material, many shapes, curves and roof geometries are possible. Therefore, RHEINZINK can also be used for the entire building envelope. In addition, thanks to the various RHEINZINK surfaces - CLASSIC, prePATINA, artCOLOR, GRANUM and PRISMO, the right roofing material can be found for every building style and taste.
Part 11: RHEINZINK product lines
One of our core competencies is the development of innovative, high-quality products. The extensive knowledge and creativity of our development team, the latest trends in technology and design, and the needs of our customers are factors that ultimately lead from an idea to a product.
Some attractive examples from the extensive RHEINZINK product world are our premium surfaces: prePATINA, CLASSIC, artCOLOR, GRANUM and PRISMO, which are available in many designs and are suitable for a wide variety of purposes.
RHEINZINK-CLASSIC and RHEINZINK-prePATINA are high-quality surfaces that over time form a blue-grey or graphite-grey patina. It is equipped with a natural self-regenerative effect and guarantees a long, almost maintenance-free life. RHEINZINK-artCOLOR is characterized by a high-quality PVDF coating and is also UV-resistant. The range encompasses seven effective colour shades, and colours can also be produced individually on request.
GRANUM stands out with its matt and noble appearance. The phosphate coating is durable, weather-resistant and reveals the typical grain of the naturalpatina after installation. Even with the coloured glazed surface PRISMO, the typical zinc structure remains visible. A selection of six natural-looking colour shades is available.