RHEINZINK cassette facades
Benefits of cassette facades by RHEINZINK
Large-area, convex cladding profile

Horizontally aligned cassettes

Custom and perfectly matching production for every property

Stabilising end plates fitted at factory

Larger construction widths possible with higher material thicknesses
Large-area, convex cassette cladding profiles
Cassettes for use in the facade sector arose from the development of large-area components for particularly fast and consequently cost-effective assembly. They are large-area, convex cassette cladding profiles whose four edges are bevelled. They are installed on suitable substructures and can be used to generate a futuristic, technological appearance that is often used on administrative buildings and commercial structures. Create customised cassette cladding with RHEINZINK by your side as an experienced partner. RHEINZINK cassette facades are based on our H 25 horizontal panel, the benefits of which are described in detail in the following.
RHEINZINK cassette facade programme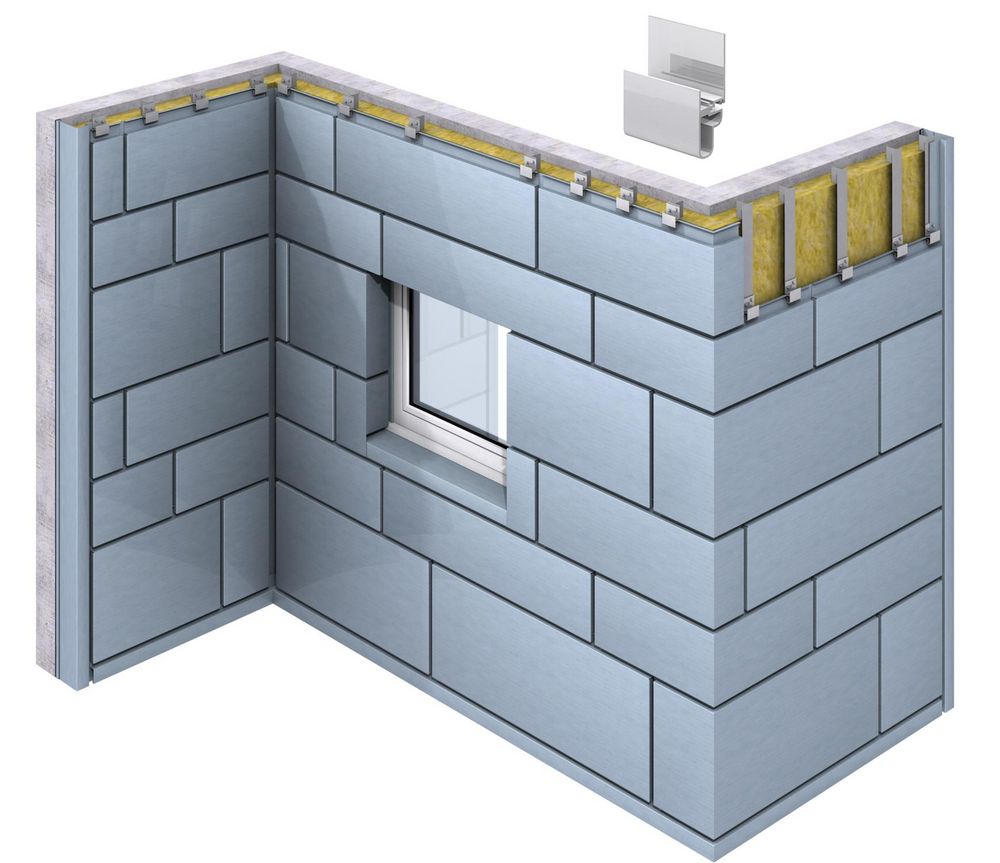 Horizontal panel as a basis for cassette facades
We are your reliable supplier for high-quality horizontal panels that are installed horizontally and mounted from bottom to top. They are attached indirectly in concealed areas. This gives you the freedom you need to create all stylistic aspects when you choose RHEINZINK cassettes. Horizontal panels or cassettes made by RHEINZINK have an installation depth of 25 mm and a fixed, specified shadow gap of 20 mm. These values are mirrored by the fastening rail that forms part of the system. This system can be used to construct lengths of up to 3000 mm. You are free to construct the cassette facade grid of your choice.
You can use these custom cassette facades for your individual concepts and plans. RHEINZINK provides equally high levels of technical and stylistic options.
Cassette facade systems – planning and application
System description
Facade cladding

Indirect and concealed attachment
Cassettes are large-format facade elements with bevelled edges that can be custom-manufactured in the required sizes. In this way, every building can be given a tailor-made cladding. RHEINZINK cassette cladding is therefore ideal for use on facades with high technical and design requirements, for instance, those demanded by office buildings and public buildings.
This type of cassette facade is based on the RHEINZINK horizontal panel. The cassettes have an installation depth of 25 mm, they are completely separated in the vertical axis and are clipped into concealed fastening elements (RHEINZINK fastening rail). The width of the horizontal shadow gap can be varied (20 mm to 30 mm). The vertical joint can be flush with the horizontal joint or recessed as a shadow gap.
Dimensions and metal thickness
Construction width > 333 mm to 600 mm
Metal thickness 1.2 mm and 1.5 mm
Max. length 3000 mm
Structural analysis is generally necessary to calculate the desired dimensions. Depending on the dimensions and the assessed wind load, stiffening measures may be required in corner areas and/or on the cassette faces.
Customised forms
Concave and convex rounded cassettes
Cassette facades can also be used to cover buildings with concave or convex rounded building plans. We are aware of the specific features that must often be considered for administrative buildings. Planners are regularly confronted by challenges, particularly building plans that initially throw a spanner in the works. RHEINZINK cassettes, based on our own horizontal panels, can also be produced for and used on buildings with convex or concave rounded plans. The vital details that we require in order to assess feasibility are related to the panel length, construction width and radius. We would be delighted to advise you by telephone for any questions you may have concerning our RHEINZINK cassette facades.
Cassette cladding attachment
RHEINZINK K 25 cassettes are attached by clipping them into the fastening rail. The fastening rail is attached to the metal substructure using two rivets or self-drilling screws. The required spacing of the substructure depends, amongst other things, on the wind load, the type of support structure, the structural system and the load bearing capacity of the cassette cladding and requires appropriate structural analysis.
Cassette systems with RHEINZINK.
At RHEINZINK, we know how important harmonised surface design is and what options are available to you. For this reason, our Service department aims to enable you to implement the forms you want with specialist seams, curves, embossing or perforations at the relevant points. Work out the individual and local conditions and use the advantages offered by natural or artificial light to turn a rather minimalist design into an exceptional composition. Atmospheric influences cause the material to develop a natural patina and add tiny nuances of colour that give the finishing touch to your facade design.
We would be glad to speak to you on the phone or advise you via email. We look forward to hearing your ideas and are proud to offer you our decades of experience to ensure your project is a success. A RHEINZINK cassette facade is the ideal element for the purpose!