Low-cost alternative to wood, stone and artificial construction materials Quick and easy assembly Complete system including fasteners as well as connection and termination profiles
As a suitable addition, our SP-Line provides you with a further facade design system that is an ideal and practical alternative to wood, stone and other processed construction materials. SP-Line is also particularly popular in the commercial sector as it can be used to clad facades that are rich in detail comparatively easily. Specialists also benefit from SP-Line as it is simple to install, and the panels can be easily adapted.
RHEINZINK SP-Line programme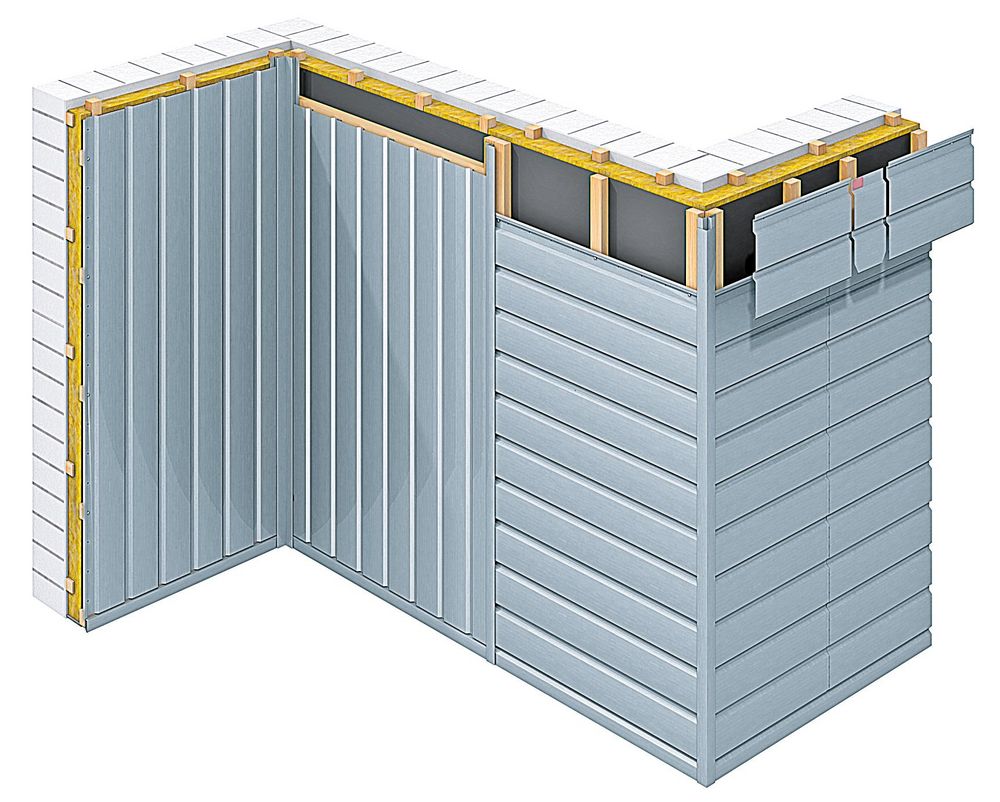 Features of the RHEINZINK SP-Line
The appearance of the finished facade is only one side of the coin for planners, architects and specialist companies. Many further aspects that clients and builders may not consider at all are also significant. Our SP-Line always impresses commercial customers with the following product specifications:
SP-Line allows custom facades to be individually designed and is an alternative to wood, stone and other building materials
The individual panels can be installed horizontally, vertically and diagonally and are fitted using a well-engineered, complete system
The attachment system can be invisibly fixed to the substructure (either wood or metal) using the included fasteners
The programme also includes connection and termination profiles for the individual SP-Line panels. This enables assembly to be conducted even more economically and in line with common standards
Furthermore, SP-Line is both durable and environment-friendly. SP-Line facade elements reliably protect the underlying building structure against external influences and lend it a sophisticated appearance.
SP-Line planning and application
System description
Horizontal, vertical and diagonal installation
Assembled from bottom to top for horizontal installation
Concealed attachment
RHEINZINK SP-Line is a complete system made from RHEINZINK prePATINA blue grey. It can be installed horizontally, vertically and diagonally. Panels are fitted one on top of the other and fixed using the self-drilling screws included in the system.
It is the details that create a distinctive facade in the long term. Construction profiles are required for corners, reveals, connections and terminations. RHEINZINK SP-Line consists of prefabricated, coordinated connection profiles that enable details to be designed and secured more easily. They are fitted using an "insert-and-cover" method.
A substructure made from wooden battens is suitable for installing RHEINZINK SP-Line on facades, dormers, fascias and upstands and gable walls. Substructures made from two-part or multi-part aluminium (2.0 mm) or steel (1.5 mm) systems are recommended for cladding larger, multi-storey facades.
Dimensions and metal thickness
Standard construction width 350 mm
Metal thickness 0.7 mm
Standard length 3000 mm
SP-Line is only available with a construction width of 350 mm. The basic panels must be adapted for use in areas around windows, for example. Optimised connection profiles make it easy to form details.
One outstanding feature of RHEINZINK SP-Line is the waste-free installation of the 3000-mm-long basic panels when fitted in a random pattern. Regular joint patterns can also be easily formed. Concealed butt connectors, butt profiles and cornice profiles are available for this purpose.
Limiting the panel length to 3000 mm greatly restricts any temperature-related changes in length.
Attachment
These panels are attached in the upper area of the panels using self-drilling screws. The screws of the panel row below are concealed when the next row of panels is hooked in place. They guarantee many years of perfect system function. The self-drilling screws and Torx bit required to fasten them are included in the system.
The required spacing of the substructure depends, amongst other things, on the wind load, the type of support structure, the structural system and the load bearing capacity of the cladding and requires appropriate structural analysis.
Designing facades and selecting suitable systems is a time-consuming task but one that is crucial for the acceptance and success of a project. For this reason, we place great importance on making your job easier at RHEINZINK. From an organisational point of view, you will benefit from our know-how. All important technical information, checklists and interesting brochures containing design examples, for example, can be found and called up conveniently on our web page at any time.
Naturally, many of our regular customers use our other systems as required, and not only our SP-Line. We would be delighted to work with you to find out whether SP-Line would be the ideal system for your project or if one of our other systems might provide more benefits. Our expert team can be reached by telephone or via email.
Are you not yet familiar with our SP-Line or do you want to examine it first without obligation? No problem at all! Our specialist dealers are naturally on hand to provide assistance and advice.