Benefits of RHEINZINK reveal panels
Modern panel system for vertical and horizontal facade configuration Custom and perfectly matching production for every property Quick and easy assembly with tongue and groove principle
It is worth taking a look behind the facade
A building's facade is its calling card and sends a message. But even the most gorgeous facade would be worthless if it did not fulfil at least one further purpose: to protect the building that it encloses. Our SF 25 reveal panels are a prime example of this. The panels not only look good, they also ensure long-term protection of the building against wind and weather. Constructing this facade as a ventilated curtain wall has a particularly positive effect.
The issue of cost is also important to planners and builders, though less so to the future visitors of a building. It is important to work in a cost-effective manner from both a planning and design point of view. The issue of the cost of facade production using reveal panels must inevitably be considered. RHEINZINK is a long-established company and naturally also takes this challenge into account.
Our SF 25 reveal panels can be installed quickly and easily. Once work has been completed, the fasteners are invisible and have no impact on the appearance of your project.
RHEINZINK reveal panel programme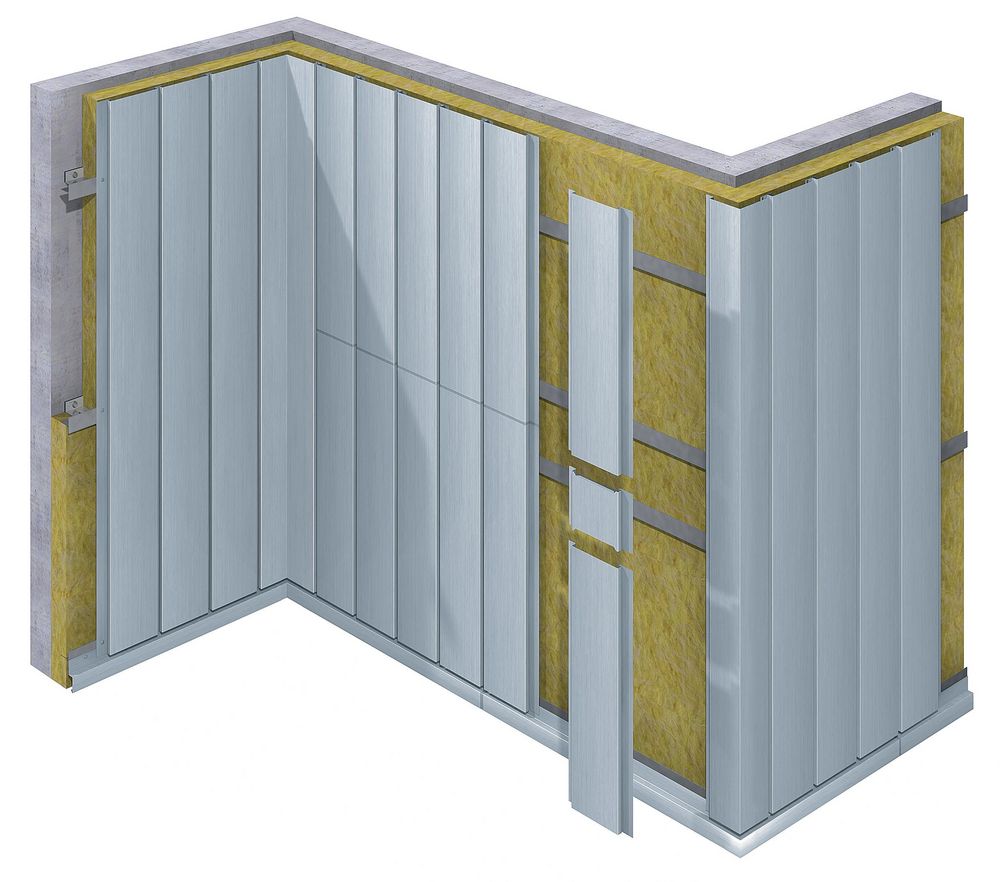 A simple installation technique is not the only important factor. Our system solution also includes matching accessory parts. RHEINZINK construction profiles are available to ensure that all visible building sections match the overall image. We supply matching base, butt and jamb profiles and window sill flashing for all system solutions. Certain profiles are also available in partially perforated forms to provide the required ventilation at all times. Our profiles are available in lengths of 3000 mm or 4000 mm as standard. Special lengths can be produced on request.
Features of RHEINZINK reveal panels
The striking facade design is characteristic of the RHEINZINK SF 25 reveal panel. For example, the SF 25 reveal panel can be installed vertically, horizontally and diagonally and is available with variable centre distances and variable joint widths:
The reveal panel centre distances are between 200 mm and 333 mm
The joint width between the individual reveal panels is between 0 mm and 30 mm
The maximum length of the individual reveal panels is 4000 mm
Reveal panels alone offer great freedom of design due to the different possible installation directions. In addition, SF 25 reveal panels can be combined with H 25 horizontal panels. This gives planners, architects or professional specialists even greater freedom of design and the chance to impress clients with interesting creations.
Reveal panel planning and application
System description
Vertical and diagonal installation
Horizontal installation up to 250 mm construction width
Variable joint pattern
Assembled from top to bottom
Concealed attachment
RHEINZINK panels are ideal for use on facades with high aesthetic requirements, such as commercial/office buildings or public buildings with a modern, technological appearance. RHEINZINK panels can also be employed to clad small surfaces such as dormers, fascias or gables.
The reveal panels have an installation depth of 25 mm and open up a variety of design options as they can be installed vertically, horizontally and diagonally. The variable width of the shadow gap (0 mm to 30 mm) adds further individual configuration options.
Dimensions and metal thickness
Construction width 200 mm - 333 mm when installed vertically
Construction width 200 mm - 250 mm when installed horizontally
Metal thickness 1.0 mm/1.2 mm recommended for construction widths ≥ 250 mm
Standard lengths 3000 mm and 4000 mm
Max. panel length 4000 mm
We generally recommend stiffening the ends of the panels using end plates. These are required to guarantee a perfect surface, particularly for larger construction widths from 250 mm upwards. The end plates also prevent side gaps in the panels e.g. around lintels.
When directly attached, length variations of the panels are compensated by limiting the facade panel size to max. 4000 mm and by aligning the substructure. This applies to applications using multi-part, metal substructures.
The resulting horizontal or vertical joints can be given different designs using backing splice plates or pilaster strip profiles, for instance.
Customised forms
Concave and convex rounded panels

Face perforation
Reveal panels can also be used to cover buildings with convex or concave rounded building forms. The radius, construction width and length of the panels are critical factors for the feasibility of rounded panels.
Panel faces can be fully or partially perforated, either as a design element or for ventilation purposes, e.g. as ventilation or aeration elements below roof overhangs or for ventilated roof structures. RHEINZINK Service fabrication offers various perforation patterns for this purpose.
If using these profiles, please contact your responsible field service consultant.
Attachment
RHEINZINK reveal panels with tongue/groove systems are invisibly attached to the metal substructure in the groove areas using rivets or self-drilling screws. The required spacing of the substructure depends, amongst other things, on the wind load, the type of support structure, the structural system and the load bearing capacity of the cladding and requires appropriate structural analysis.
Base point, flush profile with ventilation inlet

Base point, plith / cornice coping with ventilation over cornice

Design and Application Brochure Reveal Panel

System Technology for Facades

Expansion joint, joint profile, partially perforated

Inside corner with corner panel

Outside corner with box profile

VAPOwall

Product Information - The permeable weather-protection sheet