Benefits of RHEINZINK shiplap panels
Scale-like appearance for individual design Perfectly matching production for every property Facade system and matching roof drainage products from a single source
The ST 40 shiplap panel by RHEINZINK
Planners will find the perfect system for every project in RHEINZINK panel systems. Each system has different specialist properties making them suitable for different types of projects. However, all of our system solutions are characterised by quality and durability. When planning and designing facades, the question of your clients' individual desires and the available budget is vital. If your customers are mainly looking for individuality, then our ST 40 shiplap panel is an excellent choice.
You have a wealth of design options and can even use our in-house visualisation service on request. We can create a photorealistic image of the proposed facade to save you valuable time. The details of our ST 40 shiplap panel are explained in more detail below.
RHEINZINK shiplap panel programme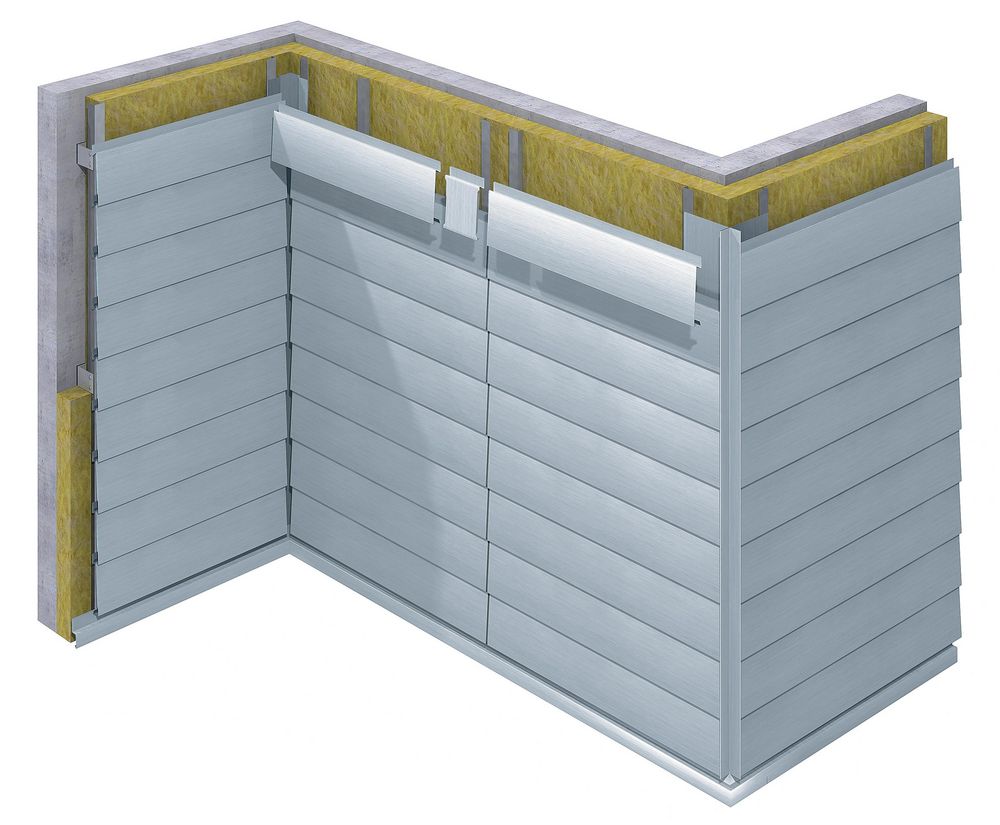 Features of the RHEINZINK shiplap panel
From a planner's point of view, the visible facade is only one side of the coin. Ultimately, it must protect the underlying building structure and the facade must be constructed in a way that allows ventilation, for example. When considering the design aspects, the RHEINZINK ST 40 shiplap panel has the following main advantages:
The delicate individual elements of the shiplap panel have a scale-like appearance and do not feature a shadow gap, which some clients find disrupts the finished effect
The effect of light and shadow on the geometries of the individual shiplap panels generates unusual and striking shading with clearly defined lines
The individual elements are attached invisibly behind the facade
From a technical point of view, the ST 40 shiplap panel by RHEINZINK has the following main benefits:
Variable choice of construction widths between 200 mm and 333 mm provides flexibility and freedom of design
Large-area facades can be efficiently clad using a maximum panel length of 4000 mm
The facade protects the building structure against wind and weather and factors in the requirements for maintaining a well-balanced indoor climate
Our shiplap panels are easy to handle and can be installed quickly and economically to keep the cost of exceptional facade design as low as possible.
Shiplap panel planning and application
System description
Horizontal installation
Assembled from bottom to top
Concealed attachment
RHEINZINK panels are ideal for use on facades with high aesthetic requirements, such as commercial/office buildings or public buildings with a modern, technological appearance.
Shiplap panels can only be installed horizontally. The shiplap panels have a wedge-shaped geometry and an installation depth of 25 mm at the top end and 40 mm at the lower end. The system has no shadow gap. This produces a scale-like effect that gives any building an individual character.
RHEINZINK shiplap panels are invisibly attached to the substructure using the upper lug. They are mounted from bottom to top.
Dimensions and metal thickness
Construction width 200 mm-333 mm
Metal thicknesses 1.0 mm/1.2 mm (1.2 mm recommended for construction widths ≥ 250 mm)
Standard lengths 3000 mm and 4000 mm
Max. length 4000 mm
We generally recommend stiffening the ends of the panels using end plates. These are required to guarantee a perfect surface, particularly for larger construction widths from 250 mm upwards. The end plates also prevent side gaps in the panels e.g. around outside corner profiles.
When directly attached, length variations of the panels are compensated by limiting the facade panel size to max. 4000 mm and by adjusting the substructure. This applies to applications using multi-part, metal substructures.
The resulting vertical joints can be given different designs using, for instance, backing splice plates or pilaster strip profiles.
Customised forms
Panel faces can be fully or partially perforated, either as a design element or for ventilation purposes, e.g. as ventilation or aeration elements below roof overhangs or for ventilated roof structures. The RHEINZINK system centre offers various perforation patterns for this purpose.
If using these profiles, please contact your responsible field service consultant.
Attachment
RHEINZINK shiplap panels are invisibly attached to the metal substructure through the upper lug using rivets or self-drilling screws. The required spacing of the substructure depends, amongst other things, on the wind load, the type of support structure, the structural system and the load bearing capacity of the cladding and requires appropriate structural analysis.
Our shiplap panels form a modern system solution that adequately takes all facade design issues into account from initial planning to concluding the project.
Our further information concerning our programme, checklists, brochures and technical data sheets contains everything you need for successful completion of your project. If you have any further questions or require additional help, the RHEINZINK team would be glad to assist and advise you at any time. You can reach us at any time via email, by phone or by visiting a qualified trading partner at their premises. We look forward to hearing from you!
Base point, flush profile, partly perforated

Base point, plinth / cornice coing

Design and Application Brochure Shiplap Panel

System Technology for Facades

Inside corner, flush profile

Outside corner, double fin profile

VAPOwall

Product Information - The permeable weather-protection sheet

Vertical expansion joint with butt strap