RHEINZINK chimney cladding
Benefits of chimney cladding with RHEINZINK titanium zinc
Durable and maintenance-free protection against the influence of weather

Harmonises with many architectural styles
Chimney cladding by RHEINZINK
Harmonious and professional integration of chimneys in the building structure
A few decades ago, fireplaces were typical equipment in many buildings and were either used as a source of heating or for cooking in the kitchen. With the advent of modern heating and cooking methods, the number of fireplaces dropped steadily. Today, however, fireplaces are experiencing a renaissance as an alternative to typical heating systems and as high-end interior fittings. Modern fireplaces and chimney cladding are subject to high standards, but these can be easily fulfilled by using the right materials and partners. When fitting a fireplace, the chimney and chimney cladding are also essential. Chimneys and the chimney cladding form a building structure element that is visible from a distance. They are not only an important design element but must also fulfil technical requirements. Therefore, RHEINZINK supplies chimney casing of the highest quality for your plans and building projects to satisfy any requirements.
Our chimney cladding is produced from high-quality titanium zinc. The initial cost of titanium zinc chimney cladding is a little higher but pays for itself through durability, reliability and freedom from maintenance.
Challenges when building fireplaces
A chimney is essential when building a fireplace. Depending on the position of the fireplace, the chimney must necessarily penetrate the roof surfaces of a house and necessitates further measures to adapt the building skin. Without chimney cladding, moisture can cause damage that in turn can cause consequential damage. Our chimney cladding helps planners to meet this challenge most effectively. Our products provide numerous design options without compromising in the slightest on the outstanding advantages and high functionality.
All RHEINZINK chimney casing offers the following benefits:
Outstanding protection of the building envelope against weather, high-quality appearance and numerous possible combinations of employed materials
Possible applications both for refurbishing old buildings and creating new buildings
Chimney cladding is available in the styles of our system solutions, such as double and angled standing seams, tiles, SP-Line and other facade systems
Excellent environmental compatibility
The benefits of chimney cladding made from titanium zinc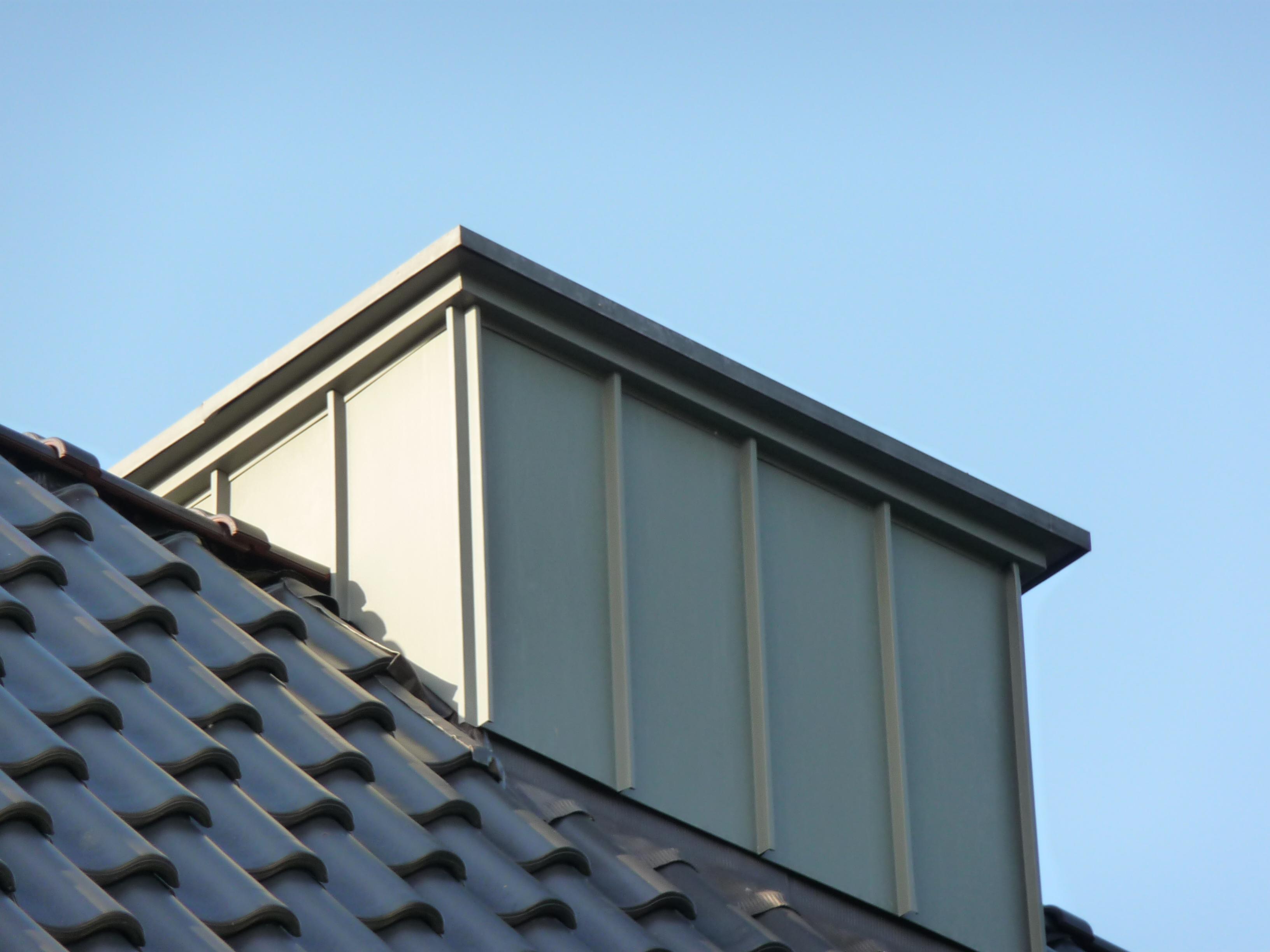 Titanium zinc is a long-lasting material, which means that the long service life of our products is no empty promise. It has already proven how easy it is to use and how exceptionally well it works in countless projects, both large and small.
The RHEINZINK team is always ready to answer your queries. We look forward to hearing from you and hearing your ideas.