Benefits of gable cladding with RHEINZINK titanium zinc
Durable and maintenance-free protection against the influence of weather Interesting combination of materials Use of all RHEINZINK facade technologies such as angled standing seam, tiles, SP-Line, panel systems
Detached houses with RHEINZINK gable cladding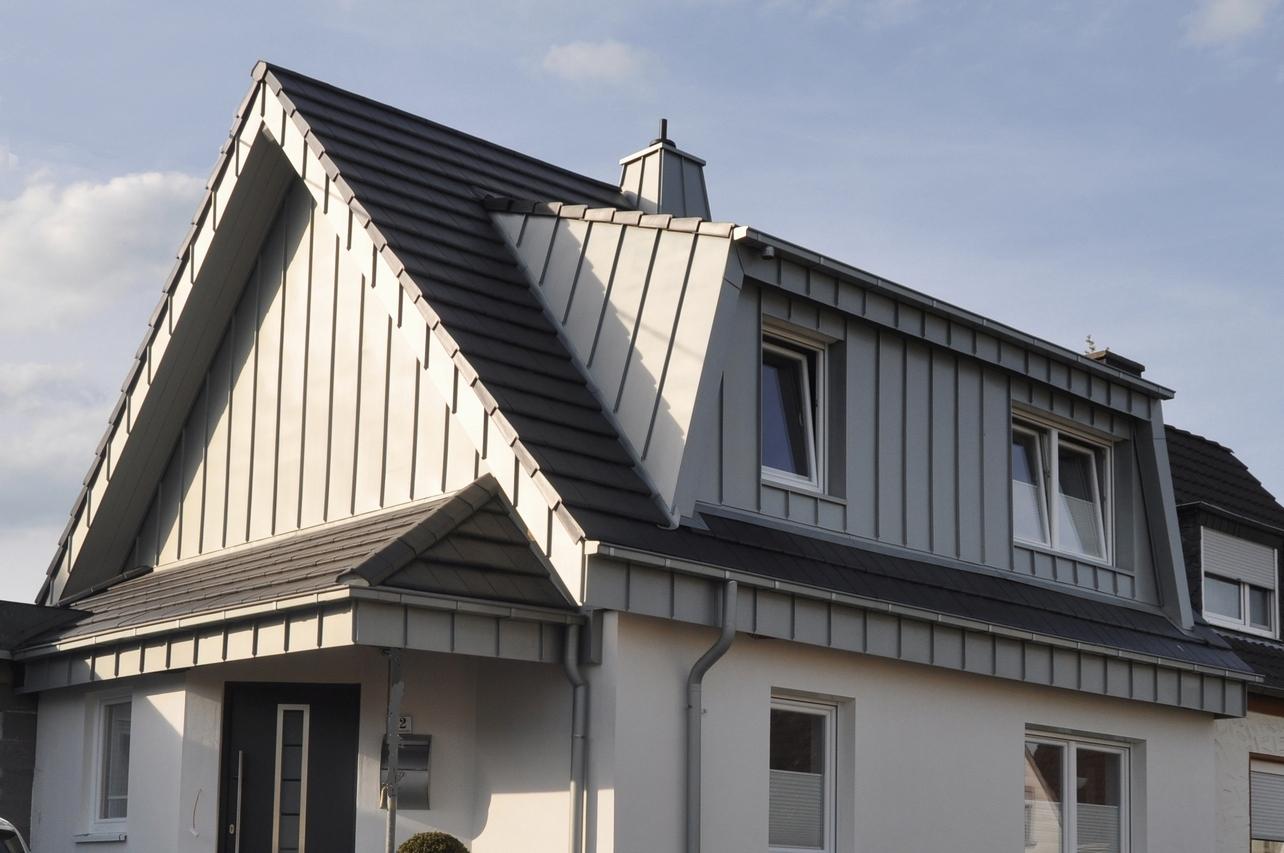 The lower the building density of a region, the higher the number of visible gable surfaces on the houses. As you surely know, these are the surfaces below the roof that connect to the verges. As a rule, free gable surfaces equate with considerably higher convenience as, for instance, additional windows can be easily installed. However, they also require particular attention with regard to planning and design as they are often exposed. High-quality RHEINZINK gable cladding is both attractive in design and offers excellent protection of the building against wind and weather.
It is advisable to combine our different solutions. We supply gable cladding with matching verge flashing, gutters and cornices. These enable you to give a building optimum protection with a consistent appearance that your clients will love. It is no surprise that our roof details are so popular.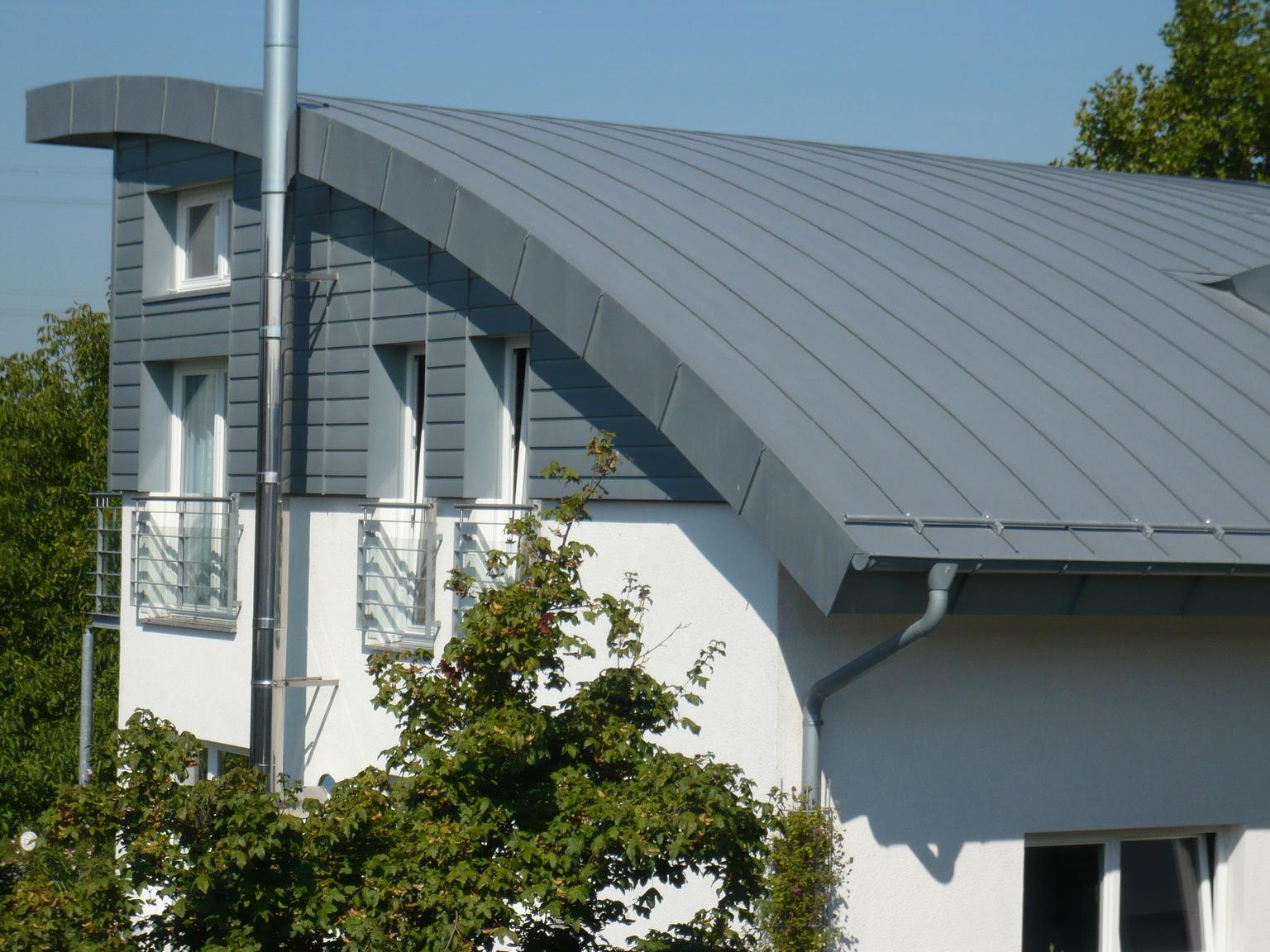 As planners or architects, you generally guide construction projects from conception to completion. You are therefore well aware of the various challenges that arise during the individual phases. One challenge for planners is the fact that almost every building project includes individual features. Using RHEINZINK gable cladding, details and systems from the very beginning can reduce your workload. You will always have a clear view of what products are available in which versions and can take this into consideration from the start. Consistently high quality means there is no need to conduct time-consuming comparisons of alternative products for your clients. Our gable cladding in particular is popular for the following reasons:
Visually appealing design and numerous individual possible combinations of diverse materials
Reliable, durable and tested protection of buildings against wind and weather
Can be used on new buildings or for the refurbishment of old buildings
Certified and environmentally compatible building products in line with the highest standards
At RHEINZINK, we place great importance on optimising our products in every way. In addition to excellent qualitative and design properties, our solutions are also extremely user friendly. Specifically, this means that our products are ideal for rapid and reliable installation. This gives you either more design freedom or saves your clients a considerable amount of time.
Both for new constructions and refurbishment
When building a new house, the later maintenance costs should also be considered. Insulated rendered facades, known as exterior insulation and finishing systems, require regular maintenance. For instance, they must be painted on a regular basis due to unsightly soiling or algae formation but also to maintain their function. Gable cladding made from RHEINZINK helps to keep maintenance costs low. Costs for scaffolding, materials and wages are reduced. In this way, maintenance-free RHEINZINK facades pay for themselves in a short time.
It is also worth considering RHEINZINK cladding when refurbishing facades. For example, exterior insulation and finishing systems can be renovated using a metal substructure without removing insulation or plaster. The condition of the wall structure must be inspected before renovation.
Creating apertures for brackets
Sealing the apertures using mineral wool after assembling the brackets
Correct bracket depth: The bracket depth must be deep enough to ensure that the support profile can be mounted on the existing EIFS without any problems and allows further thermal insulation to be installed.
This creates a new and maintenance-free facade that is both ventilated and provides protection against weather. Separating the cladding from the thermal insulation with a layer of air prevents moisture from penetrating the construction.