RHEINZINK flat lock tiles
Benefits of RHEINZINK flat lock tiles
Individual facade surface structuring Perfectly matching production including construction profiles Tested system for improved reliability Facade system and matching roof drainage products from a single source
Flat lock tiles by RHEINZINK
Many different interests must be reconciled when planning and executing construction projects. The conflict between high-quality facade design and cost-effective implementation is ever present, for example. Planners can only present end results with which their clients are more than happy if they can satisfy these competing demands using suitable products, such as RHEINZINK flat lock tiles. One especially flexible facade system made by RHEINZINK is the flat lock tile. It is used successfully in all kinds of areas thanks to its flexible dimensions and possible applications.
RHEINZINK flat lock tile programme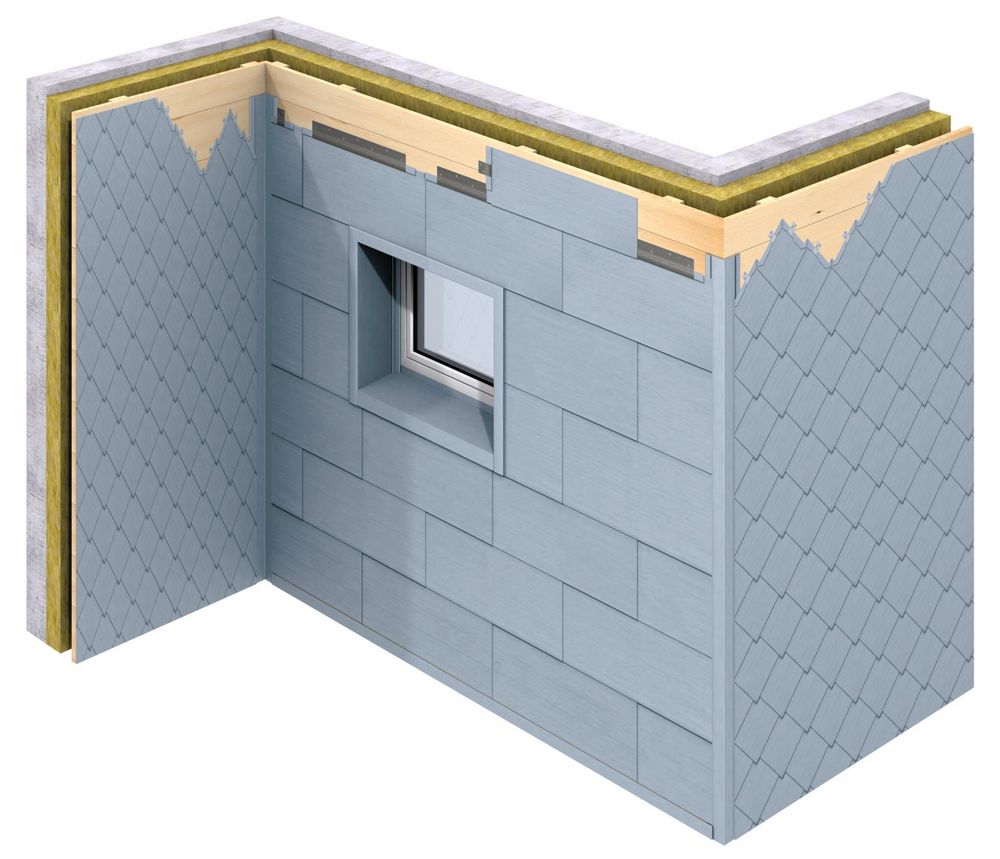 Features of RHEINZINK flat lock tiles
During planning, creativity is often limited by financial considerations. Accordingly, the aim is to get the most out of the available budget. In cases such as these, flat lock tiles are always a good choice, as are our other facade systems. Our flat lock tiles:
Are visually striking
Feature rhombic patterns of various shapes and sizes
Can be individually adapted to any project and plan
Can form geometric components with complex shapes
Are attached indirectly with concealed fasteners
Guarantee low costs and durability thanks to quick and secure assembly
Our flat lock tiles are used to cover entire large facades, as a visual highlight or as a distinctive design feature. They can be employed for a huge range of different projects. Take a look at our references and design suggestions. You will find an interesting mixture of new constructions and refurbishment projects in which flat lock tiles were employed.
Flat lock tiles are a modern facade system but it is not unusual to see them used to refurbish older buildings. For instance, roofs and facades of grand buildings can be repaired with these contemporary flat lock tiles without losing any of the structure's historical charm. This is made possible by our extensive programme of different components and modules from our flat lock tile range.
Flat lock tiles by RHEINZINK make a difference
Flat lock tiles have already been used for facade systems for many years and are correspondingly tried and tested. Nevertheless, RHEINZINK does not simply deliver a finished product. Instead, the product is geared specifically towards the requirements of successful architects and planners. In addition to our products of outstanding quality, our team is on hand at all times.
Unlike many other producers of flat lock tiles, we give you the option of purchasing custom flat lock tiles. We would be glad to discuss whether your unusual ideas can be put into practice using flat lock tiles. Our team can also show you some interesting alternatives, if necessary.
If you wish to use flat lock tiles on one of your projects or to offer them to your clients, RHEINZINK will support you from the word go. We provide attractive brochures containing superb application examples, checklists and parts lists for your internal planning. Naturally, we will also provide you with all information on the employed system technology online so that you can always formulate your plans carefully and comprehensively. We would be glad to provide you with helpful construction examples and more in-depth information on building physics.
Flat lock tiles planning and application
System description
Simple fitted seam technology
Indirect, stress-free attachment using clips or clip rolls
Direct installation on softwood boarding or RHEINZINK VAPOwall
Direct installation on metal substructures (e.g. trapezoidal profiles)
In contrast to panels or shingles, tiles have forward folding tabs on the top and fold-backs on the bottom that enable them to be attached to fitted seam systems. They are attached indirectly to the substructure using clips or clip rolls.
Flat lock tiles can be produced from sheet material in all variations and recommended dimensions.
Dimensions and metal thickness
Customised forms
Concave and convex rounded tiles
Tiles in different geometric forms
Small tiles can easily be adapted to rounded building plans. If larger formats are used, it can be necessary to pre-round the tiles, depending on the tile dimensions and radius of the building.
Tiles can be produced in different geometric forms, e.g. trapezoidal or hexagonal.
If using these tiles, please contact our application technology department or your responsible field service consultant.
Attachment
The stability of RHEINZINK tiles has been proven using wind suction tests in line with ETAG 006 test criteria. The maximum possible construction width of flat lock tiles and required metal thickness is determined by the wind load to which the building is subjected. We provide optimised clips and clip rolls for flat lock tiles. The individual clips (50 mm wide) and/or clip rolls (600 mm wide) are selected and arranged based on tile size and wind load.
Information materials on RHEINZINK flat lock tiles
All necessary documents concerning our flat lock tiles can be easily downloaded from our website. Furthermore, the RHEINZINK team is always on hand to respond to any questions, suggestions or consultation requests via email.
Base Point + ventilation inlet

Design and Application Brochure Flat-Lock Tiles

Profile Technique for Roofing and Facades

Facade ridge, flush fascia, two-piece profile

Inside corner, fitting tile

Outside corner, fitting tile

VAPOwall

Product Information - The permeable weather-protection sheet

Window jamb, flush corner profile