RHEINZINK angled standing seam
The reliable angled standing seam facade system made from titanium zinc
Benefits of angled standing seams made from RHEINZINK
Variable design thanks to different panel lengths and widths and different installation directions Standing seam panels and construction profiles from a single source Extensive range of semi-finished products and accessories for every application
Angled standing seams by RHEINZINK
Many builders would like to produce visually appealing designs but do not express their ideas clearly when talking to architects and planners. This is when creativity and imagination are required because it is often quite difficult to fulfil your clients' desires. Neither is it enough for architects or planners to be merely creative. After all, a visually stunning building still has to fulfil certain standards, although these are often connected with concealed areas. This primarily means ensuring that the angled standing seams and other seam systems are compatible with the other parts of the building.
Typical example: A rain-proof longitudinal seam connection constructed using our angled standing seam system.
RHEINZINK angled standing seam programme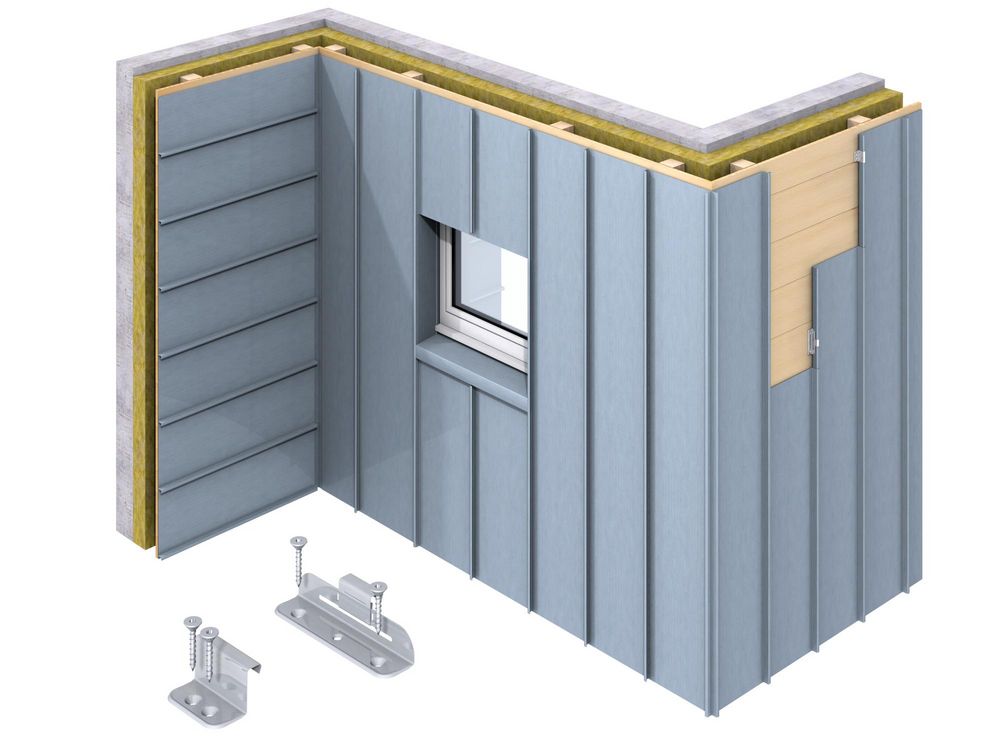 Extensive programme and planning aids
As an experienced and innovative company, we naturally offer you more than just our major products. You can choose from a standard programme that can also be complemented by in-house developments or individual solutions. Our different product lines are especially well suited to certain projects and simplify your work in every way: from planning and assembly to completion.
The more individual you design your facade system to be, the more complex it is to successfully execute the project. We are aware of this fact at RHEINZINK and therefore provide useful planning aids for use in connection with our angled standing seam systems and other systems. Naturally, you can conveniently download these from our website at any time. You can also contact us at any time to request samples or submit queries.
Features of the RHEINZINK angled standing seam system
Angled standing seam systems also have the following special features:
Small and large surfaces can be emphasised or given striking segmentation patterns.
Angled standing seams can be installed vertically and horizontally using a selection of different panel lengths and widths.
They can be installed on cross joints or half-staggered cross seams.
Tapered, concave or convex surfaces can be reliably clad with ease.
The system technology on which the angled standing seam system is based also allows you to strike out in new directions. It can be used in almost all areas.
Our products are optimised with regard to application safety, quality and durability and can be aligned with your individual requirements. As an established company, we are also proud that our products have been employed in a multitude of projects of every level of complexity. Correspondingly, our website provides fascinating construction examples that demonstrate the flexibility of our seam systems.
Our system programme is rounded off by matching accessories. They enable you to assemble the systems smoothly, reliably, cost-effectively and rapidly, just as your clients would wish. Professionalism is as important to RHEINZINK as it is to you! You are sure to be impressed!
Angled standing seam planning and application
System description
Facade cladding
Cladding small surfaces
Angled standing seam systems are used in the facade sector and for cladding small surfaces such as fascias, upstands and parapets etc. They are ideal for visually separating roof and facade surfaces thanks to their height of approx. 25 mm and a seam width of approx. 12 mm. They can be installed horizontally, vertically and also diagonally.
The panels can be delivered with ready-made profiles or bevels or can be produced on the construction site using mobile roll formers.
Angled standing seams are distinguished by particularly low material stresses. In contrast to double standing seams, only one side is closed using a machine or by hand.
Dimensions and metal thickness
We recommend using a panel width of 430 mm or less when cladding facades with angled standing seam systems. It is also advantageous to make the panels from sheet material and to edge them on a bending brake in order to significantly reduce the inevitable creasing of thin sheet metal.
The panel length must be reduced to max. 6 m, otherwise is it near impossible to handle them on scaffolding. Panel lengths of 4 m have the lowest levels of distortion. The panels are connected together using simple cross seams.
Customised forms
Convex and concave rounded panels
Tapered panels
The minimum radius for convex rounded, standing seam panels is 0.6 m. Starting from a radius of 12 m, panels can be installed without first pre-rounding them. If the radii are smaller, the panels must be edged by hand and stretched using manual forming pliers or a Biegeboy bending machine.
For concave rounded surfaces, the seam edge must be compressed, which is more technically difficult than stretching. The minimum radius for concave rounded, standing seam panels is, therefore, 2.5 m. Pre-rounded panels cannot be installed above a radius of 25 m.
For reasons of production feasibility, the panel width of tapered panels must be at least 100 mm and max. 730 mm, depending on wind loads.
If you have special ideas and are unsure of your options, RHEINZINK would be delighted to assist you at any time. We will work with you to find out whether you can turn your special idea into reality cost-effectively and will provide you with all the information that you need.
Base point + cornice coping + ventilation over cornice

Base point + flat roof connection + ventilation inlet

Base point + flat roof connection with ventilation inlet

Base point + ventilation inlet

Declarations of Performance

Declaration of Performance Dowel-type fasteners CLIPFIX stainless steel with EN 14592

Declarations of Performance

Declaration of Performance Dowel-type fasteners CLIPFIX steel with EN 14592

Facade capping + one part + structured underlay